Mainline Trends
To put the 45-year decline in mainline Protestant membership into perspective, consider these statistics for the Episcopal Church. Other mainline denominations show more or less the same trend line.
US population grew steadily from 1930 to 2010, from 120 million to an estimated 306 million.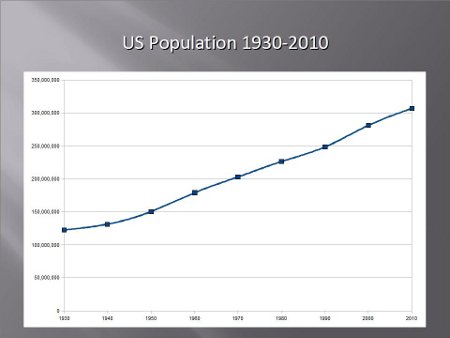 Episcopal Church membership grew at the same pace until 1964 -- from 1.1 million to 3.6 million.
In 1964, Baby Boomers began to graduate from high school and to leave home. Many of their parents drifted away from church, as well.
Suburbanization and lifestyle changes curbed enthusiasm for the old neighborhood church.
Traditional worship, while intensely important to some, lost its appeal to others. It seemed dull and passive.
From 1964 to the present, church membership has fallen relentlessly, from 3.6 million to 2.1 million.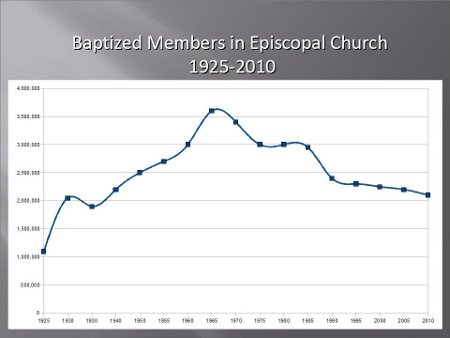 If the Episcopal Church had just held its own – at an historic 1.67% of overall population – it would be today a church of 5 million members, rather than its actual size of 2.1 million. As it is, the Episcopal Church's market share has shrunk to 0.68%, down by nearly two-thirds from the market share it held from 1930 to 1970.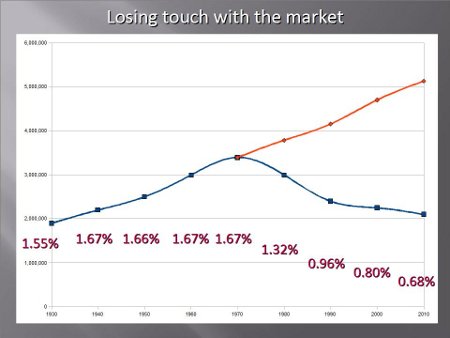 Church partisans have blamed that decline on everything they didn't like, from women in ministry to liturgical renewal to new music to gays in leadership. But the downward trend was well established long before those changes took place.
Moreover, other mainline denominations (Lutheran, Presbyterian, Methodist, United Church of Christ, Disciples of Christ, American Baptist) were declining at a comparable rate.
In fact, American religious culture was changing, and historic churches didn't see or respond to those changes.
By 2010, mainline congregations were quite out of step with a changing population.